My mobile phone, the Xiaomi Mi A1, is no longer one of the current models, but it works great and still receives the latest security updates. Well, a few months ago the GPS was a bit weak. It got worse and worse and then stopped working completely. After a short time (and some panic) it worked again. A few months later it started again, while jogging in the forest it got worse and worse, then it stopped working again.
The first time the search on the Internet did not yield anything, now the forums are full of this problem. Anyway, you are not alone, comforting enough, but I still haven't found a solution. The answers are rich but all very confused.
The symptom doesn't look like a software problem, nor does it look like a hard circuit or wire defect. The error is not sudden enough. Therefore from the beginning I suspected a plug or contact problem. In a forum I read that someone changed the battery and since then his GPS has been working again.
So I opened the phone. You need a suitable Micro-Torx for the screws next to the USB socket and a plastic lever to push the two shells of the case apart. I didn't have one and used an old German Bahncard. It has Credit card size but is softer and tougher than a credit card and worked quite well. On YouTube there are a number of videos showing the disassembly, just search for "Mi A1 battery change" or "Mi A1 disassembly".
But after disassembling you won't see anything that points to a GPS module or antenna. A closer inspection shows that the antennas are obviously glued to the back of the disassembled cover and are contacted by small spring contacts on silver contact surfaces. You can also clearly see the impressions of the contact springs on the contact surfaces. This seems to be the problem. The silver contact surfaces on the inside of the lid corrode over time or (less likely) the springs rub the contact surfaces away. Also realistic: Over time, the springs press themselves into the contact foil, so that the foil is pushed away and the spring tension is no longer sufficient for contact. In any case, the indentations are clearly visible. Whatever the cause: GPS doesn't work anymore because of the contact problems between body and lid.

A1 with cover removed: The contact surfaces are clearly visible in the cover.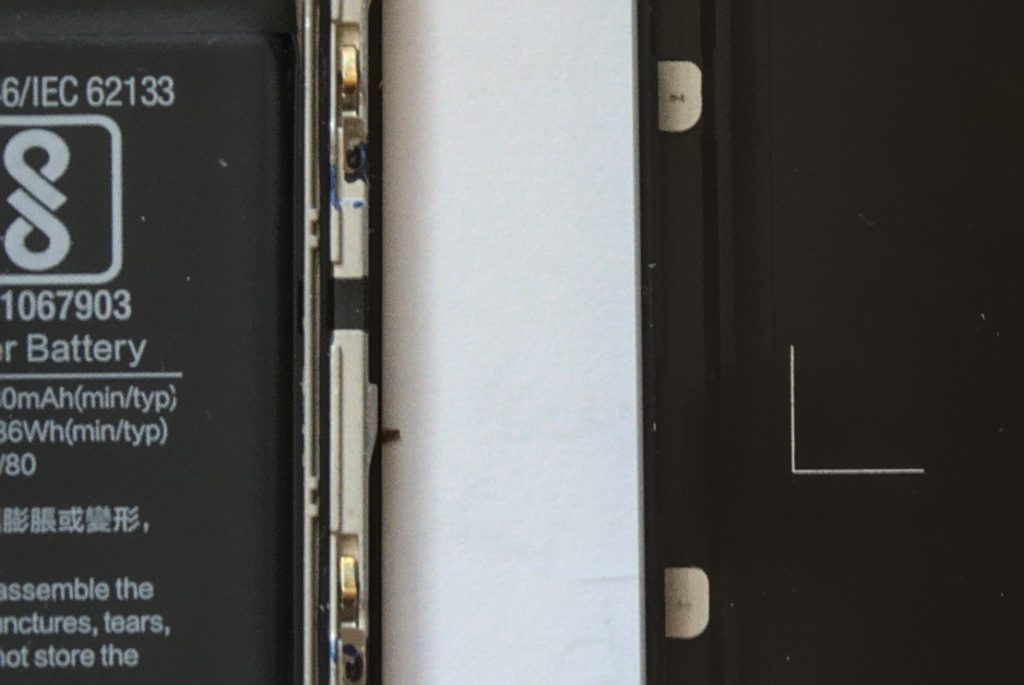 Detail: Left are the contact springs, right the corresponding contact surfaces in the cover.
I cleaned the contacts with a fiberglass brush (both sides, springs and contact surfaces), tighten a bit the springs and reassembled the phone.
And the GPS works again. The whole action took 10 minutes and the most difficult part was the pushing apart of the two halves of the case with the Bahncard. Let's see how long that lasts.